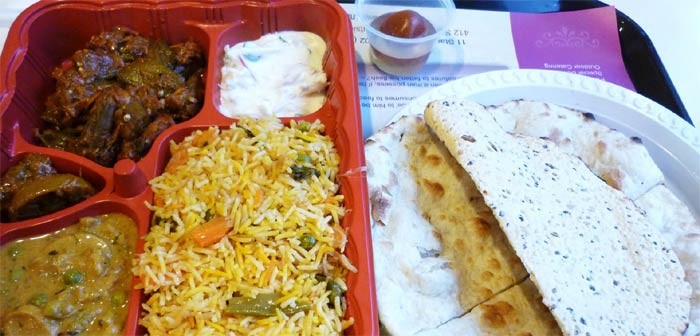 Fed-up of unhygienic and questionable on-board catering services of Indian trains; most of the times passengers are compelled to use other online food services options. Online food catering services like Travelkhana, Railyatri etc. Not only offer convenience to passengers on-board, but they also provide a sense of relief to passengers who find hard to believe in hygiene of food supplied from pantry car.
Now a recent notification issued by IRCTC on its twitter handle, warn passengers to avoid using unauthorised online food services. IRCTC signifies this notification with a tag line -
"Do not risk your lives."
Below this tagline IRCTC lists 11 such unauthorised online food catering services on twitter that supply food to passengers on-board without any permission from IRCTC. However, anything related to hygiene or quality of food was not mentioned by IRCTC on the site. The eleven listed unauthorised food suppliers listed by IRCTC are -
Travelfood,
Travelerfood,
Railyatri,
Khanagadi,
Food in train,
Food on wheel,
Travelzaika,
Trainfood,
Railrasoi
E-rail
Khanaonline
IRCTC urged its passengers to order food through authorised channels only. It says use mobile apps such as 'Food on Track' or its e-catering website – www.ecatering.irctc.co.in
In case you are wondering how to use IRCTC's authorised food services on train, here are few things you must know -
IRCTC says that it is the only authorised agency to take order online and deliver food directly to passengers in train through its e-catering arm.
"Food on Track" is the official mobile app of IRCTC that can be downloaded through Google Play Store.
IRCTC website says that to provide variety and quality in food, IRCTC has started e-catering scheme.
IRCTC is the official agency for the e-catering scheme which it runs through its authorised partners.
E-catering services are only offered in metro and other major cities as of now which are --
Bangalore City Junction, Chennai Central, Kanpur (CNB), Allahabad Junction, Varanasi, Mumbai Central, Chatrapati Shivaji Terminal, New Delhi Railway Station, Old Delhi Railway Station, Lucknow, Itarasi , Bhopal Junction and Vijaywada.
This how you order food online through IRCTC e-catering on-board -
You can order your food online via IRCTC website - www.ecatering.irctc.co.in or through "Food On Track" App or by dialing 1323 from your mobile phone or by Sending SMS as 'MEAL' to 139.
Any passenger having a valid reservation ticket can book the meal through website. This facility can be availed by passengers having a valid reservation ticket including e-tickets or tickets taken from reservation window.