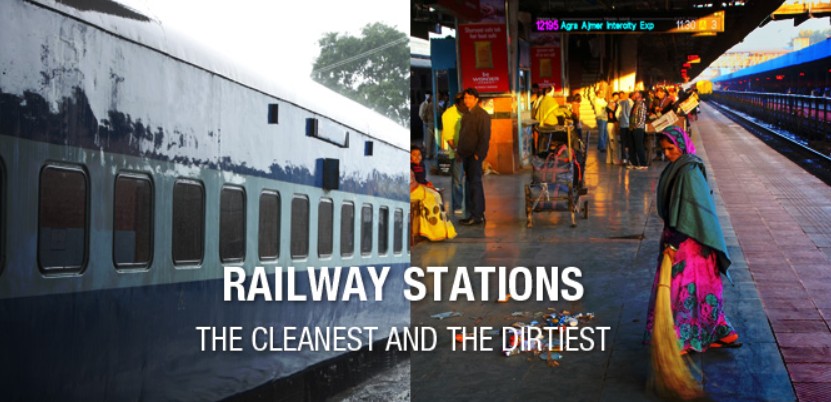 If you have to name one institution that took "Swachh Bharat Mission" with utmost sincerity then without any doubt it is the "Indian Railways." However, despite showing sincerity towards cleanliness there are railway stations across India which are dirty, filthy and an unhygienic place to be in. Railway ranks its stations for cleanliness in different categories so that some kind of competition can be thrown in between stations. There are about 8000 stations in the country and the idea is to make the entire rail network clean and beautiful but the process to bring that idea into reality is not very efficient. It is due to this process you have cleanest stations and besides them you have dirtiest stations.

Under 'A-1' category of Railway Stations 'Surat - Diamond City of India' came on top and was ranked the cleanest station in India. Rajkot again in Gujarat ranked second cleanest railway station and Bilaspur of Chhattisgarh was ranked third. Solapur of Maharashtra ranked fourth, Mumbai Central fifth, Chandigarh sixth, Bhubaneswar seventh and Vadodara eighth. Note that there are 75 stations under 'A-1' category.

After A—1, comes category A in which there are 332 stations. Out of these 332 stations, Beas in Punjab ranked first, Jamanagar and Gandhidham in Gujarat shared second position. Vasco Da Gama station from coastal state of Goa ranked fourth, Kumbakonam from Tamil Nadu ranked fifth and Nasik Road in Maharashtra found its place among the cleanest 'A' category train stations in the country. Here it must be mentioned that railway stations under category 'A-1' and category 'A' in Gujarat was found to have better cleanliness than anywhere else in the country.

What came out as a surprise that cleanest cities of India were not found to have cleanest railway stations. Here is a list of cleanest cities of India according to the Swachh Bharat Rankings in 2015 -

Mysore (Karnataka),
Thiruchirapalli (Tamil Nadu),
Navi Mumbai (Maharashtra),
Kochi (Kerala),
Hassan (Karnataka),
Mandya (Karnataka),
Bengaluru (Karnataka),
Thiruvananthapuram (Kerala),
Halisahar (West Bengal),
and Gangtok (Sikkim).

Not one of these cities found to have cleanest railway stations.

Now, here is a list of railway stations that act as a blot on 'Swachh Bharat Mission." These are the dirtiest declared stations on various counts -

Guwahati Junction of Assam ranked dirtiest. Guwahati is one of the major and the most important junction of North Frontier Railway. The station forms the hub of connectivity to the hilly north eastern states.
Hazrat Nizamuddin was ranked second dirtiest despite being one of the major stations in the capital city of country. Several premier Rajdhani trains originate from this station.
Sealdah station of West Bengal was ranked third dirtiest despite being one of the busiest stations of Kolkata. This station also handles daily commuters over many inter-city trains.
Kanpur Central of Uttar Pradesh is fourth dirtiest railway station in India. No wonder one of the most polluted city has the dirtiest railway station.
Bhopal was ranked fifth dirtiest and Muzaffarpur junction in Bihar sixth.
Note that all above stations were ranked under A-1 category.

Here is the list of dirtiest stations under A category -

Shahganj, Ballia and Janghai are the top three dirtiest stations and all these stations belong to Uttar Pradesh which itself is one of the dirtiest state overall.

Next is Madhubani and Bakhtiyarpur in Bihar which again not a surprise. What is a bit of surprise though is the next dirtiest station that belongs to Karnataka - Raichur.